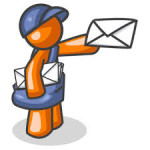 There are many decisions you have to make when deciding between a digital or a direct mail marketing campaign. In our last blog Is Direct Mail Marketing Still Effective?, we explored the differences between the two methods of marketing your business. Fact is, we found many strong reasons why you should choose direct mail marketing over digital marketing. As with anything we do in business, taking every opportunity to increase margins and reduce risk is inherently part of our due diligence process. When choosing direct mail marketing, we have found five tips to turn the odds strongly in your favor:
Weight is the Key: The weight of your mailer will make all of the difference. Saving .07 cents per piece, multiplied by 10,000 pieces per segment, would provide a significant savings of $700 per segment.
Graphics: Keep it simple and elegant. Choose standard colors vs. special mix. Use simple and attractive design elements to convey your message vs. elaborate design detail.
Type and Quality: Use a paper stock that is of acceptable quality, but significantly cheaper than a high quality stock. Can you present your product in an amazing manner on a single card vs. a tri-fold presentation?
Bid and Negotiate: Compare prices between multiple print houses, get bids in writing and negotiate! There is nothing improper about negotiating and don't shy away from the process. Get the best deal possible and protect your interest.
Database Quality: Ensure your customer data is clean and accurate so your reach your target audience with the highest percentage of success.
We believe that if you put into play these 5 Tips to Save on Direct Mail Marketing, you will find your margins improve and the success of your campaign will amplify. The quality of your database will be the greatest opportunity you can take advantage of. The quality of your customer data will make all the difference in your campaign. If you have an average cost of $1.20 per piece and 500 out of a 10,000 piece segment are misdirected, you will lose $600 out of the gates! How easily that number could be erased by just having a clean and quality database for your campaign!
Choose Data Ladder to provide you with software that will ensure your databases are ready for that Direct Mail marketing campaign and SUCCESS!!