On January 28, 2014, the state of Hawaii announced a bold plan to secure the future through education. In cooperation with the Hawaii P-20 Partnerships for Education and other parent, educational and business organizations, the state has set a goal of 55% of Hawaii's working age adults to have a 2 or 4 year degree by 2025. This goal represents the challenges by an emerging global economy and a report indicating that by 2018, 65% of jobs in Hawaii will require a college degree. This program is bold, energetic and necessary, to secure the future for all Hawaiians.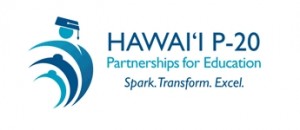 Through efforts and partnerships across the country, educators, government and parents are forming movements through P-20 programs to advance our future generations. The general definition and goal of P-20 programs is to create a more seamless and integrated educational experience for all students through the educational pipeline, from pre-school through higher education. These efforts use data compiled on students from the "start" in Pre-K through their subsequent employment, measuring numerous factors for success. By monitoring the data and the results, educators, government and business will be able to guide and adapt the direction of educational goals. By controlling the outcomes, students will receive a more effective educational experience, which will translate into a more successful business career. As our students and business start to be more successful, we can better compete in a growing global economy.
The P-20 programs across the country are growing and developing into successful ventures. These programs however could not get off the ground without the contributions of data management and record linkage tools. Effectively maintaining and analyzing these large databases will provide P-20 programs the tools to make critical decisions and succeed in their goals. Learn how Data Ladder and their record linkage software can meet and exceed all expectations for the success of these P-20 programs.