Social Media Integrations
Integrate your social data with DataMatch Enterprise to get a unified, clean, and consistent view of your digital data instead of piecing together information from silos one at a time.
Unlock Your Data with Social Media Integration
With 74% of your customers making purchase decisions based on what they see on social media, social data has taken center-stage. Integrate your social data using Data Ladder's native connectivity options and bring together social and digital data into a unified view using our platform's powerful data matching, cleansing, standardizing, and enrichment features. Turn social data into actionable insights with clean data that you can trust to improve your digital strategy. Data generated on your social media is rarely leveraged because it's not ready for analysis. With DataMatch, leverage our powerful social connectors to instantly start importing data from Facebook or Twitter and start preparing your data for analysis within minutes. The visual, highly intuitive interface allows both business and IT users to get the most out of their data.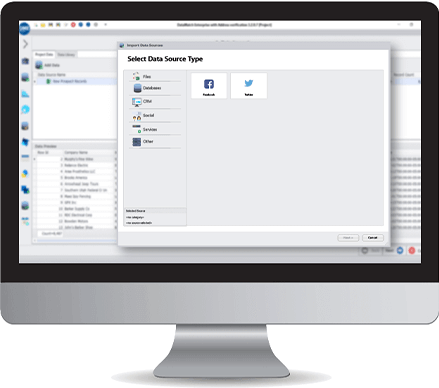 Ready to Start Matching to Clean, Enrich, and Prepare Your Data?
During your 30-day trial, you can access DataMatch Enterprise™ risk-free. The software is user-friendly and easy to install – what you see is what you get! However, we recommend a 30 to 60-minute non-obligatory online consultation with one of our subject matter experts to help you get the most out of your free trial.