Overview
DataMatch Enterprise Server allows processing existing project in background mode without GUI, just using Windows command prompt or running it from other custom user application.
GUI Mode
If you run DME Server without command line parameters, the application will start in familiar GUI mode like a regular DME version. In this mode, you can create the new project, edit an existing one, define transformations and match definitions. Saying simpler, on this stage you can prepare a project for running in automated mode.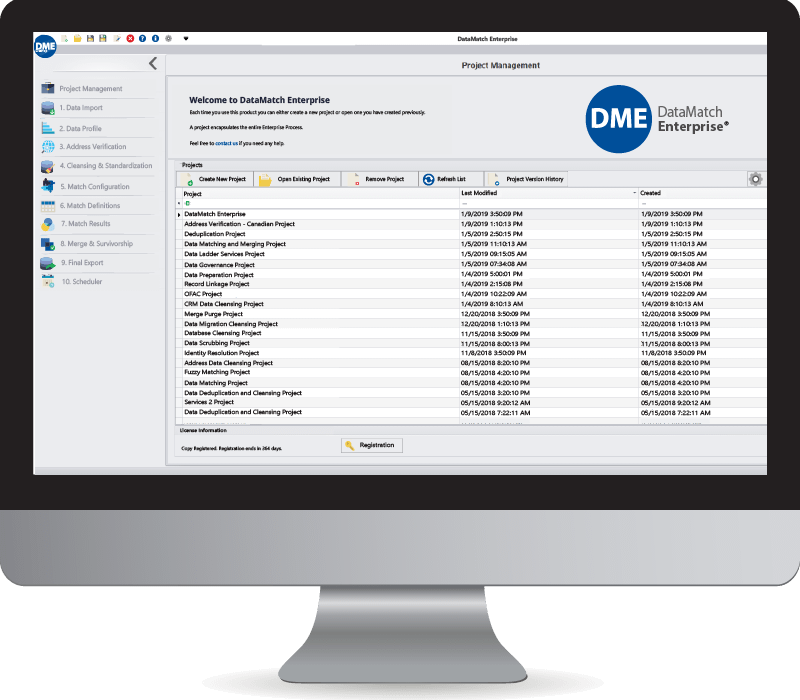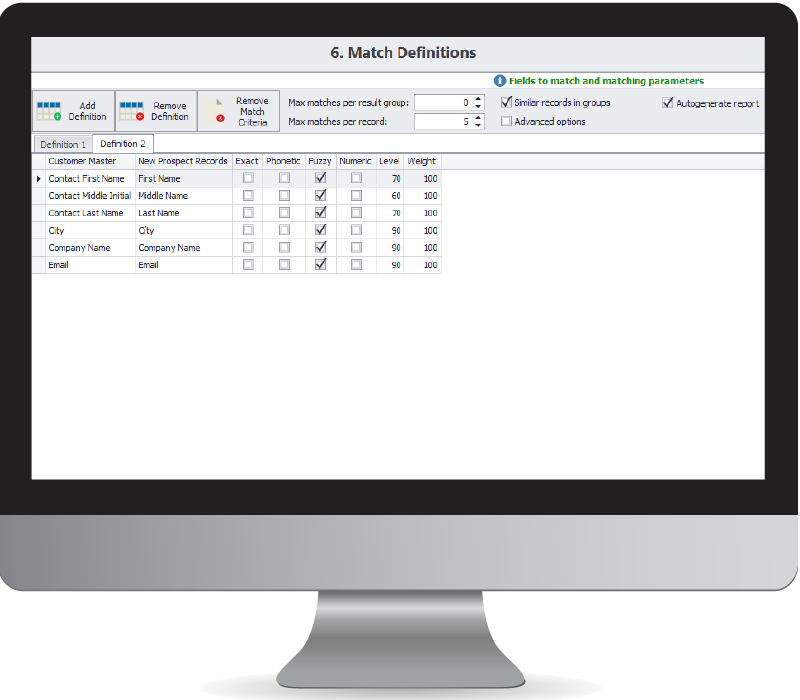 Command Line Mode
You can also process an existing DataMatch project in a fully automated mode. Among prerequisites the next conditions should be satisfied with the processing project:
One or more data sources should be imported.
Transformation should be defined if you want to export just transformed data.
One or more match definitions should be determined if you want to export match results, summary report and/or final results.
Command Line Usages
Utility mode has the next syntax:
DataMatchEnterprise.exe -p <ProjectName> -o <OutputFormat> -f <FileName> -c <ConnectionString> -t <TableName> [ -r -em -et -ef ]
Optional parameters are enclosed into the square brackets.
There are 2 fundamentally different export formats:
So what do you do if there are inconsistencies or variations in your data? Even worse, what if there are different errors in both a database and a search engine? Data Ladder's DataMatch Enterprise Server finds the right data – even with incomplete information. Our algorithms can find the areas of similarity regardless of what fields they're located in or however the data is aligned.
Our platform is a robust approach to making imperfect data usable. Our platform can make the right connections with any type of structured data. From spelling errors to redundancies, our tool can work through many of the common issues found in large amounts of data.
Check the validity and deliverability of a physical mailing address with our updated data quality technology. DataMatch Enterprise Server Edition comes equipped with address validation and geocoding technology, which helps standardize your address lists for mailings. Standardization converts an address to a standard format by correcting the address and adding missing information (such as a zip code or a suffix).
It is then compared against a list of valid addresses to determine validity. You also have the ability to enhance each matching address and add ZIP+4 level latitude and longitude values for the best in mapping precision.
Have a specific data quality problem in mind?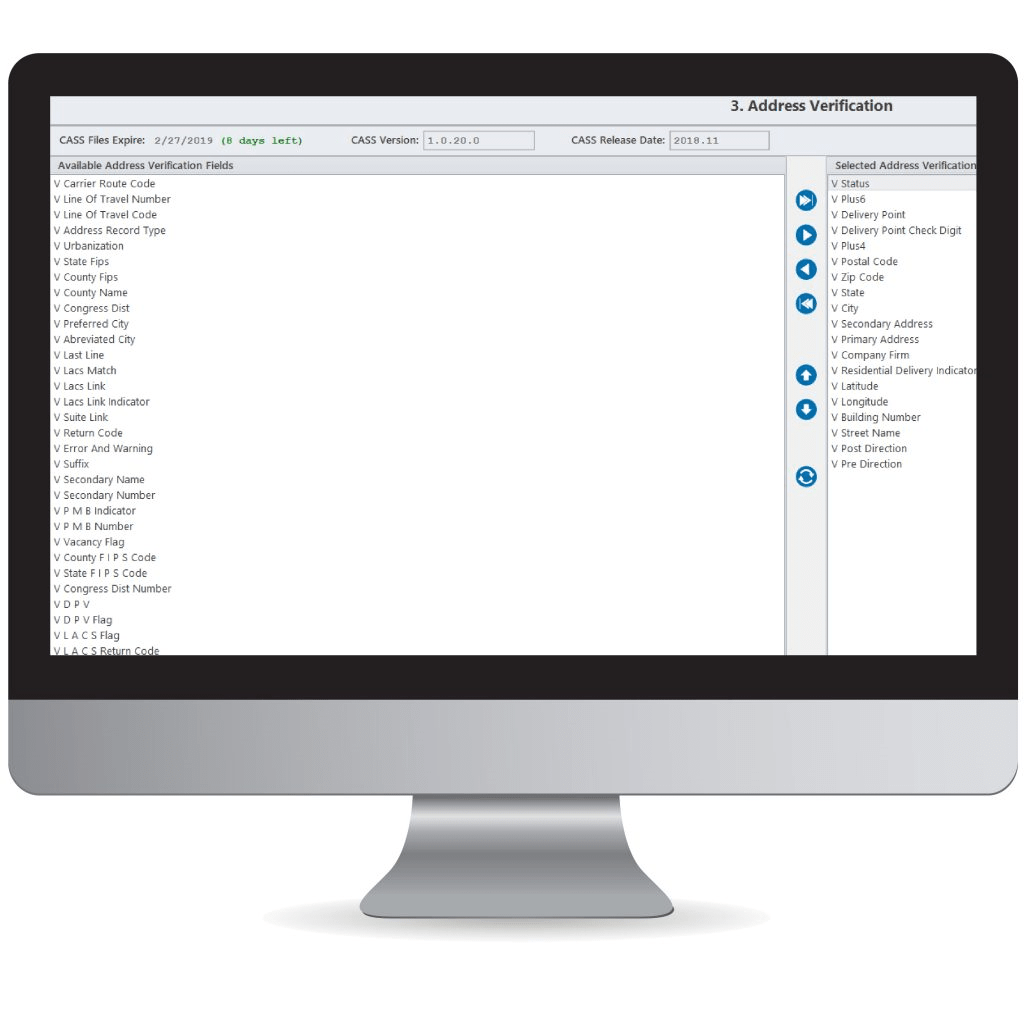 Geocoder Latitude and Longitude
Geocoding provides the geographical coordinates for a specific address or location. Whether you need to analyze intelligence data or visualize distance, there are numerous applications of this very important tool. Our geocoding module provides exact latitude and longitude, along with census tract and block group information for each deliverable address in your database. You can also perform distance calculations based on a ZIP+4™.
Add Latitude/Longitude coordinates to your address lists at the ZIP+4 level.
Add latitude and longitude coordinates carried out the 6th decimal.
Provide county name and county FIPS code to the ZIP+4 level.
Add street-segment points.
Canadian Address Verification
DataMatch Enterprise + Address Verification Software also comes equipped with address validation for Canadian addresses. DMES will identify, validate, and correct addresses, and will format the results to the preferred standard for Canada Post.
Address look up from a postal code, or the ability to view addresses by fields such as province or municipality.
Capable of handling individual address fields or free format input and Integrates with existing applications and systems.
Deciphers linguistic and regional language preferences.
Corrects all types of Canadian addresses.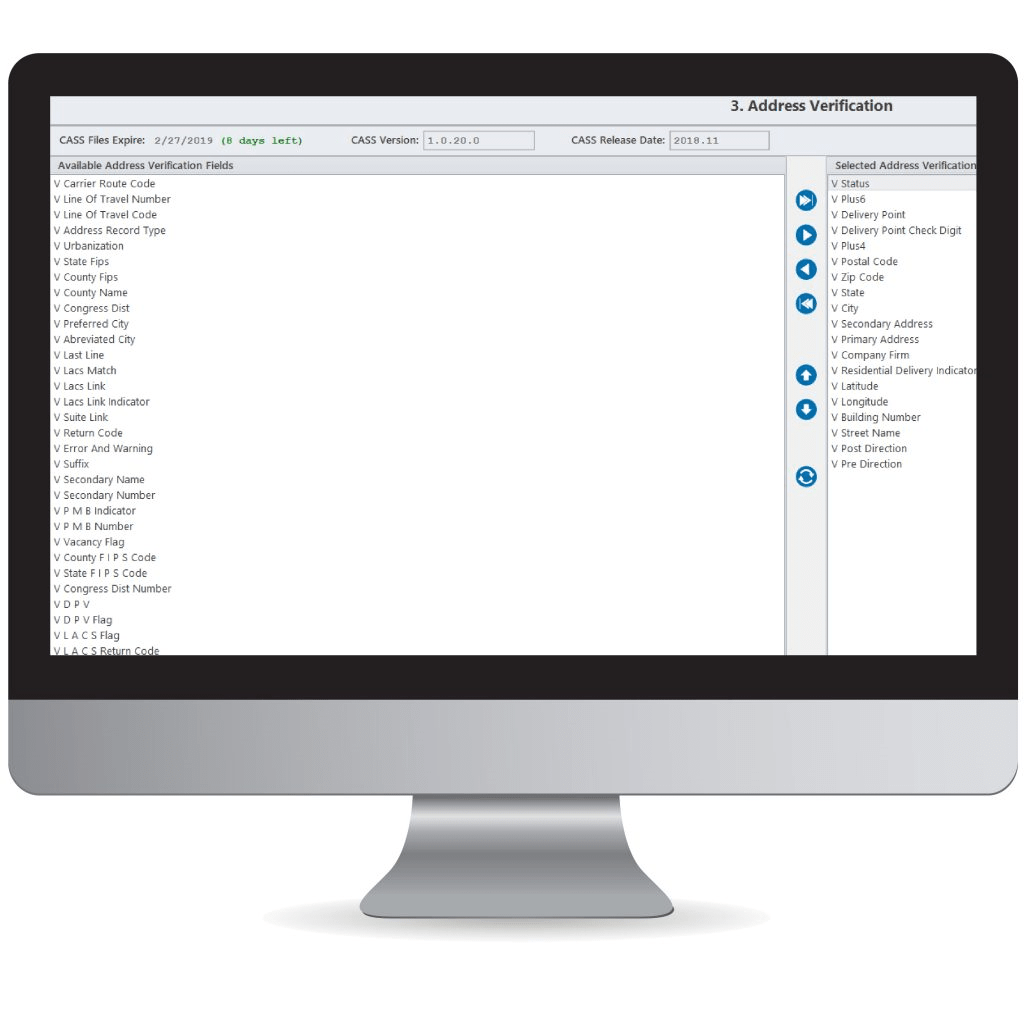 Recommended Resources

Think Address Verification
is an Option?

Your Campaign:
Undeliverable as Addressed

ZIP Plus 4 Plus 2
Equals ZIP Plus 6
Ready To Start Cleaning, Verifying, and Enriching Address Data?
Ready To Start Cleaning, Verifying,
and Enriching Address Data?
During your 30-day trial, you can access DataMatch Enterprise risk-free. The software is user-friendly and easy to install – what you see is what you get! However, we recommend a 30 to 60-minute non-obligatory online consultation with one of our subject matter experts to help you get the most out of your free trial.