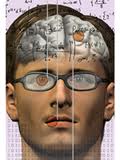 The Harvard Business Review described the data scientist as "The Sexiest Job of the 21st Century." HBR went on to describe the new profession as a critical opportunity for any business that requires management of big data. These are very compelling words coming from such an influential source. You can browse through the many articles in the past six months that echo the same thoughts outlined by the Harvard Business Review. Data science has been an obscure profession that suddenly has sprung onto the radar as an influential and essential job description in the global business arena.
There are many definitions of a data scientist, as they apply to various business models, but we have outlined a few that seem to trend across the spectrum:
One that leads other data scientists in disseminating research and tackling big data problems, based on the business needs of the corporation.
Will be a visionary, defining the corporation's overall big data strategy.
Identifies and handles problems that can be resolved with big data solutions.
Advises on research initiatives and defines analytic strategies that position the corporation as a leader in big data analytics.
Has the ability to share information across business functions and disciplines. Manages stakeholders with diverse interests and makes actionable recommendations.
Of course, each corporation recruiting a data scientist demands that they have a strong results driven personality, with a high level of enthusiasm, energy and confidence.
From PayPal to the CIA, data scientists are in demand, and will continue that presence into the foreseeable future. C-level leaders and their boards understand the importance the role plays in their organization. A data scientist brings energy, vision and fiscal responsibility into every corporation that is on the cutting edge of innovation in their field. There is some speculation that in the future, the role of the data scientist will replace the social media manager in most business operations. Business strategies change and roles are adapted to energize innovation. Facebook, Twitter and LinkedIn depend heavily on their data scientists. Like all others trends affiliated with these social powerhouses, data scientists will find their value in newer innovative roles.