A comprehensive help guide is included in DataMatch including video tutorials. Also included is mouseover help which pops up when the mouse hovers above a control.
For all questions feel free to contact us.
FAQ (Frequently Asked Questions)
Upgrades
Q: If I buy DataCleaner can I upgrade to DataMatch later?
A: Yes, you can upgrade for the difference between what you paid for Data Cleaner and the cost of a full featured DataMatch license.
Errors
Q: I get an error "The Application did not initialize correctly (0xc0000135)"
A: This error means the .net framework has not been installed. It can be downloaded and installed here. Note DataMatch checks for .net upon installation.
Registration
Q: How can I register your products?
A: Please download and install DataMatch or Data Cleaner.
Within the program there is a golden key in the upper left hand corner.

After pressing the key you will see a registration screen.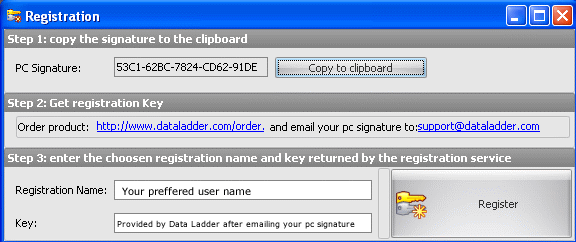 The PC signature is in the step 1 box. Please copy that and email to Support@dataladder.com with your preferred registration name.
Support will email you back your PC specific Registration name and key. Then enter your registration name and key in the registration window, press the register button, and you will have activated DataMatch.
We apologize for the lengthy process, it is necessary to protect our hard work so we can continue to provide world class Deduplication Software and Data Cleansing solutions and enhancements to our customers.
Support
Q: Where are your support/sales people located?
A: Our Sales/Support groups are located in the United States and Canada.