Data Deduplication Software
Identity and remove duplicates in virtually any data source using world-class data deduplication software. Our proprietary algorithms help you quickly find fuzzy, phonetic, mis-keyed, numeric, abbreviated, and domain-specific matches. Rated world's fastest and most accurate deduplication software.
Rated Fastest and Most Accurate Data Deduplication Software
Match Accuracy (Between 40K to 8M record samples)

Data Ladder:
96%
IBM Quality Stage: 91%
SAS Dataflux:
84%
In-House Solution:
65-85%*

Data Ladder:
Very Fast
IBM Quality Stage:
Fast
SAS Dataflux:
Fast
In-House Solutions:
Slow

Purchasing / Licensing Costing

Data Ladder
80 to 95% Below Competition
IBM Quality Stage
$370K+
SAS Dataflux $220K+
In-House Solutions
$250K+

Data Ladder:
15 Minutes
IBM Quality Stage:
2 Months+
SAS Dataflux: 2 Months+
In-House Solutions:
3 Months+
| | | | | |
| --- | --- | --- | --- | --- |
| Match Accuracy (Between 40K to 8M record samples) | | | | |
| | | | | |
| Purchasing / Licensing Costing | 80 to 95% Below Competition | | | |
| | | | | |
| | Above tests were completed on 15 different product comparisons with university, government, and private companies (80K to 8M records). This includes the effect of false positives. | Need multi-threaded. in memory, no-SQL processing to optimize for speed and accuracy. Speed is important, the more match iterations you can run, the more accurate your results will be. | Includes base license costs. 2014 prices or later, in-house, includes salary + benefits. Note in-house implementations had a 10% chance of losing in-house personnel, so over 5 years half of the in-house implementations had lost the core member who ran and understood the matching program. | A metric for ease of use. This is the time to first result, not necessarily full cleansing. |
What You Get with Our Data Deduplication Software

Unmatched Speed
and Accuracy
Unparalleled matching accuracy and speed for enterprise-level data cleansing beating IBM and SAS.

Big Data
Capability
Seamless integration with MongoDB and Hadoop-based databases for processing of 100 million+ records.

Proprietary Matching
Algorithms
Mix of established and proprietary matching algorithms with a high level of matching accuracy.

Code-Free
Matching
Designed for both business and IT users, DataMatch allows you to match and cleanse data visually.
What is Data Deduplication?
Data deduplication removes duplicate items from databases and lists either by matching records manually or using data matching algorithms to automatically detect duplicates. The purpose of deleting duplicate rows/records is to clean the underlying data set to achieve productivity improvements, save on duplicate mailings, and increase customer satisfaction. Manually deleting duplicates can be a time consuming and error prone task, which is why dedupe software is an essential tool for enterprise-wide data quality initiatives.
Not all duplicate removal tools are created equal though. Most dedupe software utilize fuzzy matching algorithms that go beyond exact matching to deduplicate accurately, but the accuracy and speed of matches vary greatly. Connectivity is another key concern – with most data duplication software allowing you to integrate with only a few common databases or excel files, whereas you need to dedupe across dozens of disparate sources spread through the enterprise.
You need a better, modern approach to data deduplication.
You need Data Ladder.
| | | |
| --- | --- | --- |
| | 10 Main Street, Springfield, 01234 | |
| | | |
| | 10 Main Street, Apartment 304 | |
To Deduplicated, Cleaned and Merged Data
Our industry-leading data cleansing software helps you find matching records, merge data, and remove duplicates using intelligent fuzzy matching and machine learning algorithms, regardless of where your data lives and in which format.
Improve your data quality with data cleansing and make it your competitive advantage.
How Can Data Deduplication Software Help you Grow Your Business?
Duplicate data causes confusions and wasted resources, costing business in the US more than $600 billion annually. Data dedupe software helps you minimize this cost by automatically finding duplicates in a database or across multiple databases and cleansing the data, thereby saving time and increasing the accuracy of customer data for better reporting, higher marketing and sales ROI, and improved customer relationships. Use Data Ladder's data deduplication tool to detect and purge duplicates, or merge and survive data to build a 'single source of truth' using world-class fuzzy matching, intelligent parsing, and pattern recognition techniques.
In a nutshell, data deduplication will help you improve

Business
Analytics
Lead Generation & Nurturing

Operational
Efficiency

Customer Trust and Perception

I want accuracy
in reporting
Eliminate fragmentation in reports to strategize and spend better by purging duplicates

I want to increase
marketing ROI
Ensure higher deliverability of marketing emails and direct mail by merging duplicates.

I want to enrich
customer data
Find duplicate records for the same entity across multiple sources and create an enriched, master record.
With Data Ladder, You Get: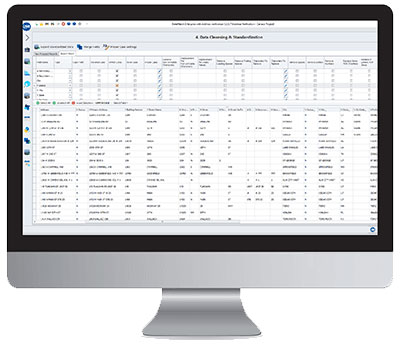 Start cleaning and matching your data today.