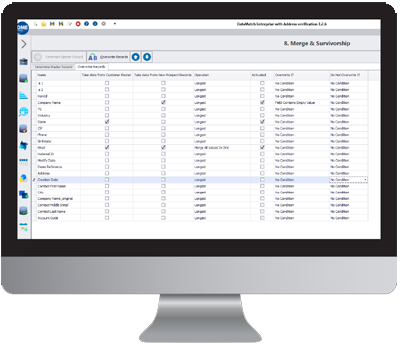 Combine data from databases, files, or applications, decide which records should stay or go, and create survivorship rules easily with the highest-rated merge purge software in the market.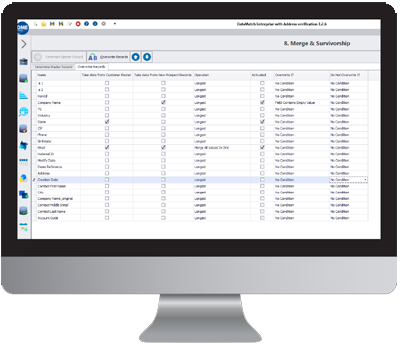 What You Get With Our Merge Purge Software
Match Accuracy (Between 40K to 8M record samples)

Data Ladder:
96%
IBM Quality Stage: 91%
SAS Dataflux:
84%
In-House Solution:
65-85%*

Data Ladder:
Very Fast
IBM Quality Stage:
Fast
SAS Dataflux:
Fast
In-House Solutions:
Slow

Purchasing / Licensing Costing

Data Ladder
80 to 95% Below Competition
IBM Quality Stage
$370K+
SAS Dataflux $220K+
In-House Solutions
$250K+

Data Ladder:
15 Minutes
IBM Quality Stage:
2 Months+
SAS Dataflux: 2 Months+
In-House Solutions:
3 Months+
| | | | | |
| --- | --- | --- | --- | --- |
| Match Accuracy (Between 40K to 8M record samples) | | | | |
| | | | | |
| Purchasing / Licensing Costing | 80 to 95% Below Competition | | | |
| | | | | |
| | Above tests were completed on 15 different product comparisons with university, government, and private companies (80K to 8M records). This includes the effect of false positives. | Need multi-threaded. in memory, no-SQL processing to optimize for speed and accuracy. Speed is important, the more match iterations you can run, the more accurate your results will be. | Includes base license costs. 2014 prices or later, in-house, includes salary + benefits. Note in-house implementations had a 10% chance of losing in-house personnel, so over 5 years half of the in-house implementations had lost the core member who ran and understood the matching program. | A metric for ease of use. This is the time to first result, not necessarily full cleansing. |
What You Get with Our Data Cleansing Software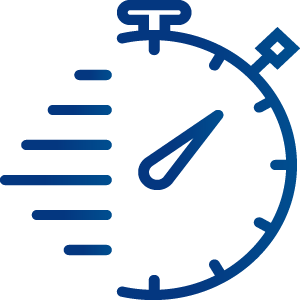 Unmatched Speed
and Accuracy
Rated faster and more accurate than IBM and SAS, our merge purge software consistently had the least number of false positives in independent studies.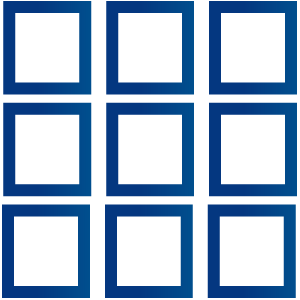 Automated
Standardization
Apply over 300,000 built-in rules for names (Jon, Jonathan, John), phone numbers, address, and company name for standardization.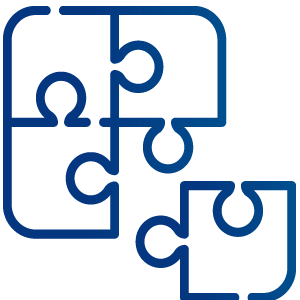 Fuzzy Logic
Identification
Identify matches accurately with percent matches between records and setting minimum percent match thresholds by field.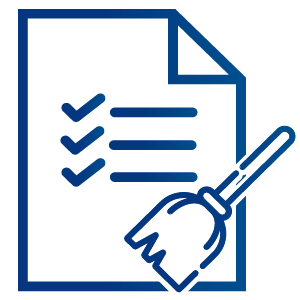 Find. Replace,
and Correct
Find and replace unwanted characters, patterns, and specific words from millions of records to automate list standardization and cleaning with merge purge tools.
All businesses have multiple sources of data.
Customer data is present in forms filled by customers, databases created by employees, and data captured from marketing and sales activities. Product data is provided by multiple vendors in multiple forms. This data can provide useful insights and help the business increase operational efficiency but there is one problem in using it. Since the data came from different sources and in different formats, how do you merge relevant data to create master records?
Situations like these call for merge purge software.
Merge purge processes can combine data from different sources intelligently and establish accurate matches. This is accomplished by Data Ladder's use of multiple data cleansing and matching technologies. A combination of established, industry-best fuzzy matching, phonetic, and domain-specific algorithms like Jaro-Winkler Distance, Probabilistic Jaccard, Metaphone 3, and Name Variant, along with our proprietary fuzzy identification logic, is used to find duplicate data points. Matching is further improved with over 300,000 built-in data standardization rules and pattern matching techniques to correct names, addresses, phone numbers, email addresses, and more.
DATA CAN BE ANALYZED AND INCREASE EFFICIENCY
Merge purge software gives your business the ability to use its data to its fullest potential. Data can be analyzed to find insights, increase efficiency, and discover problems, ideally, if you have a "single source of truth" that supports integration with enterprise-wide applications and systems. Merge purge allows you to choose how the data should be merged and purged. Pick the data survivorship rules that serve your purpose best and our merge purge tool will go through millions of records, combining them into complete golden records. Your original data is preserved in its original form, and a new dataset is created containing all the information.
data cleansing and increase operational efficiency today.
Our merge purge solution can process lists with 100 million+ records and has been rated the fastest and most accurate list cleaning software in multiple independent studies, consistently outperforming competing solutions from IBM and SAS. Whether you're a business user or IT, experience the power of code-free, intuitive data cleansing and increase operational efficiency today.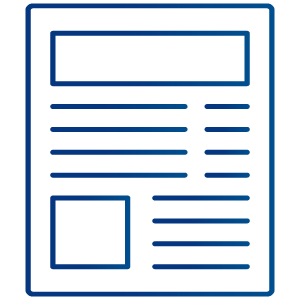 Trends and Predictions
from CES 2018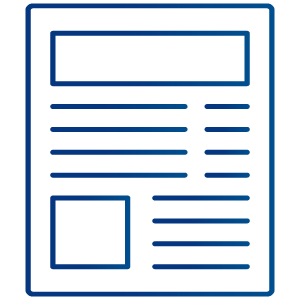 Merging Data from
Multiple Sources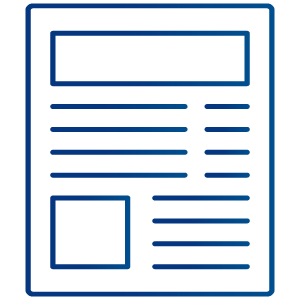 Data Quality Tools Get Results
for Digital Marketers
Ready to Start Using Merge Purge Software to Match and Clean Within and Across Data Sources?
During your 30-day trial, you can access DataMatch Enterprise™ risk-free. The software is user-friendly and easy to install – what you see is what you get! However, we recommend a 30 to 60-minute non-obligatory online consultation with one of our subject matter experts to help you get the most out of your free trial.