CRM Deduplication Software
Construct optimal CRM processes using proprietary fuzzy and deterministic techniques to accurately compare and merge or delete duplicates and build a 360-degree customer view.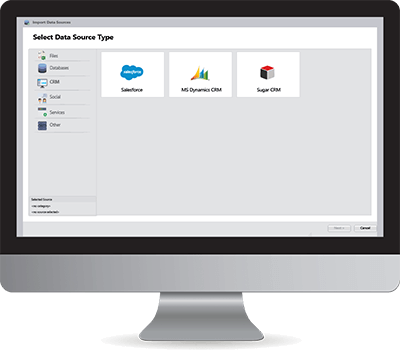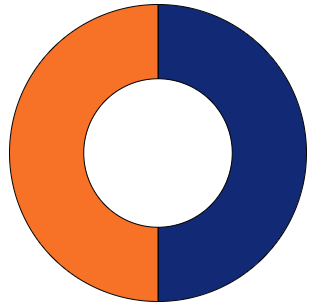 25%
Focus on deduping across the CRM
According to Gartner, businesses that fail to focus on deduping across the CRM to create a 360-degree customer view, see a 25% reduction in potential revenue gains. Your marketing team may be sending material to the wrong addresses due to no clear 'master record; senior management may be basing decisions on inaccurate, skewed reports; and your sales reps may be forced to spend inordinate amounts of time sifting through the CRM to trying to figure out which duplicate contains correct, up-to-date information for a specific customer.
Customers with multiple omnichannel interactions automatically create duplicates.

Duplicates because of nicknames, variations in spelling of first name, and abbreviations.

Sales reps may be creating multiple entries for the same customer across different geographic regions.

Contact data from silos and purchased lists results in duplicates, with each copy containing slightly different data.
What is CRM Deduplication?
Put simply, you need CRM deduplication if you have multiple records for the same account, lead, or contact. And if you have duplicate data, your team is wasting time and resources and is causing missed opportunities. The answer lies in building a tightly integrated customer view. Building this single, or 360-degree customer view requires that you understand the different ways a customer interacts with your company, identify the data sources that power those interactions, combine those data silos, and then clean and deduplicate while choosing the highest quality records for each entity and enriching them for use in your CRM.
Reduce churn using CRM deduplication software by ensuring accuracy in tailored communication with your customers.
Ensure that your sales reps waste no time and resources sorting through duplicates just to reach the right contact.
Increase trust in your reports by eliminating duplicates and ensure consistent, accurate reporting every time.
Higher Customer Satisfaction
Your customers shouldn't be receiving the same message or call multiple times just because you haven't used CRM deduplication software.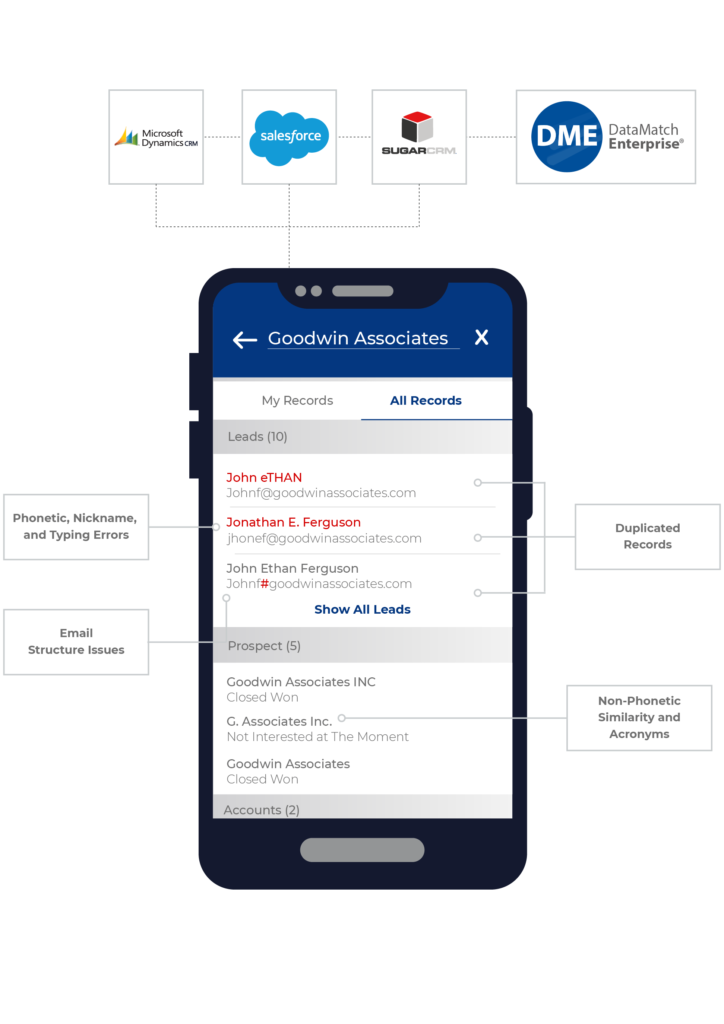 What You Get With Our Deduplication in CRM tool

Unmatched Speed And Accuracy
Rated faster and more accurate than IBM and SAS, DataMatch consistently had the least number of false positives in independent studies.

Seamless Embedding with API
Readily integrate the world's fastest and most accurate CRM deduplication and check for duplicates as they are being entered in web forms.

Advanced Name Deduplication
Merge the most complete information across duplicates to create a 'master' and overwrite data from that master to other duplicates.

Support for Leading CRMs
Our CRM deduplication tool integrates natively with Microsoft Dynamics CRM, SalesForce, and SugarCRM, with more on the way.
CRMs are powered by data and if the data is duplicated, then the system will start having efficiency problems and errors. Duplicate CRM data causes a lot of problems from businesses – from increased advertising spending to poor service delivery.
Duplicate records are created when information is entered differently for the same customer at different times, creating multiple records of the same customer. Someone may use an abbreviation or a nickname and the CRM system thinks it is a new customer. This means that all marketing and sales efforts are doubled for those customers. If you do direct mailing campaigns, customers who have been duplicated will get multiple mail from you. The same is true for phone calls and emails.
One of our customers, Emerson Process Management, attempted to get their CRM in order once they realized that they had over 400 master records for nearly every customer! This huge variety of records was a result of creation in different locations or for different functions depending on how they were associated with the client.
The data architect at Emerson began the dedupe process by matching customer records in for connections and similarities from every possible angle and merging and surviving records to create "golden" records. As a result, Emerson was able to reduce duplication by 75%, increasing revenues dramatically.
Data Ladder's CRM deduplication software uses built-in libraries to discover duplicates that have been created due to the use of nicknames, spelling variations, abbreviations, and much more. The fuzzy matching is able to find duplicate records created due to typographical errors.
DataMatch™ isn't just one of the most accurate CRM deduplication tools available – it has also been rated the fastest data matching solution in multiple independent tests and studies, outperforming comparable solutions by IBM and SAS.

Salesforce Data
Cleansing 101

Disparate, Dirty, Duplicated Data - Understanding the 3Ds of Bad Data

How to Enrich and Optimize CRM Data for Accurate Insights
Start your free trial today