Database Cleansing Software
Improve database integrity and reliability by investigating your data at scale, cleansing it of duplicates and errors, surviving crucial data, and creating and reusing standardization rules.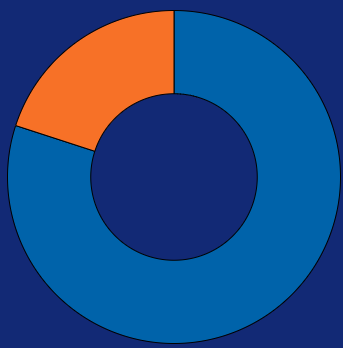 80%
Time is spent cleansing data rather than analyzing it
Surveys revealed that up to 80% of an analyst's time is spent cleansing data rather than analyzing it. The increasing volume of incoming data and variety of sources makes it difficult for organizations to govern how data is entered, thereby affecting accuracy and completeness. The end result? Dirty data, wracked with spelling errors, incomplete information, inaccurate input, duplicate entries, and unstandardized data. So, for analysis, this data has to be painstakingly cleaned before its usable.
Data decays every month because of changes in jobs, addresses, phones, etc..

Lack of data governance processes results in unstandardized input, contamining enterprise systems

Nicknames, name variations, and abbreviations cause duplicates.

Links between similar records are not recognized because of incomplete information.
What is Database Cleansing?
Database cleansing is an aspect of data quality where errors are discovered and corrected in a database. While prevention is the crucial first step in maintaining data quality, the increasing number of ways internal and external customers interact with a business has made it impossible to catch errors from entering client databases. Database cleansing software makes it possible to profile your data accurately – within and across databases – and understand how it needs to be cleansed, create a data cleansing strategy and execute it, create standardization processes for enterprise-wide data, and conduct regular audits for data quality monitoring.
Database Cleansing Automation
Experience automation with database cleansing software by visually creating your database cleansing process – little or no technical knowledge required.
Deduplicate Without Losing Data
Detect erroneous phone numbers, names, email addresses, and mailing addresses with advanced pattern matching and built-in standardization libraries.
Define data survivorship rules to merge linked records into a "golden" record and prevent data loss by extracting additional data to separate fields.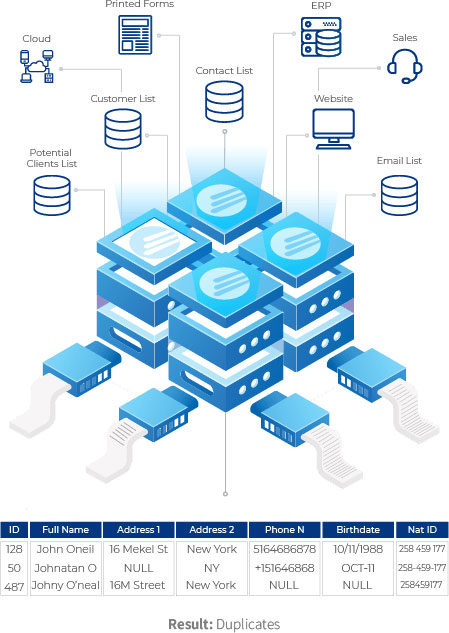 What You Get With Our Database Cleansing Software

Unmatched Speed
and Accuracy
Rated faster and more accurate than IBM and SAS, DataMatch consistently had the least number of false positives in independent studies.

Standardization
Libraries
Use over 300,000 built-in libraries to detect and resolve alternate spellings, nicknames, missing area codes, postal codes, and more.

Fuzzy Logic
Identification
Deduplicate and enrich your data with proprietary fuzzy, probabilistic algorithms, paired with phonetic and deterministic techniques.

Find. Replace,
and Correct
Find and replace unwanted characters, patterns, and specific words from millions of records to automate list standardization and cleaning.
Data Ladder's database cleansing solution helps you define a complete data cleansing strategy, guiding you through:
Eliminate Human Errors
Database cleansing tools can eliminate many common human errors, such as incorrect spelling, improper formatting, or missing zip codes. They can also save a lot of money and time for a company by minimizing the manual effort involved in cleaning database, detecting duplicates, and fixing errors.
one of the most powerful data solutions available.
The advanced parameters available make our solution one of the most powerful data solutions available. Users can use built-in configurations or define their own parameters. Select the formatting you need for phone numbers, addresses, and any other type of data and all the data that is detected to fit the pattern will be standardized. All invalid data is highlighted – email addresses that have typos or punctuation, phone numbers with missing area codes, invalid addresses, and other types of erroneous data included.
present your data in a consistent format while creating governance processes.
Data Ladder's data standardization capabilities help present your data in a consistent format while creating governance processes. Our patented WordSmith™ functionality identifies and counts unique values in your lists and allows you to replace, delete, or extract values into new fields for standardization in bulk. Other quality improvements include proper casing for names – john smith becomes John Smith – and linking duplicate records created due to nicknames (Jim White and James White), and more.
Data Ladder cleansing software can process 100 million+ records
Data Match database cleansing software can process 100 million+ records, within and across databases, and has been rated the fastest and most accurate list cleaning software in multiple independent studies, consistently outperforming competing solutions from IBM and SAS. Whether you're a business user or IT, experience the power of code-free, intuitive database cleansing and increase operational efficiency today.
Start your free trial today