Bad data quality is a serious problem for marketing. ZoomInfo reports that inaccurate customer data affects 94% of businesses and companies lose more than 10% of revenue as a result.
You'd think marketing managers are generally aware of duplicate or inaccurate entries within their database. Not at all. Most realize after a downtick in their campaign response rates prompts them to view their lists – only to find inaccurate phone numbers and emails. Or when they realize they have exceeded the database quota for their marketing automation tool and are asked by their vendor to opt for deduplication as a solution.
That's where a list matching software comes in. Such tools can verify phone, email, and contact list accuracy through sophisticated profiling and cleansing features and deduplicate entries across multiple data sources to identify master records.
Let's look at four ways at how marketing companies can enhance their marketing ROI using a list matching software.
What Is a List Matching Software?
List matching, also known as data deduplication or data matching, is the process of configuring matching rules and definitions across multiple datasets to detect and remove duplicate and redundant records. A list matching tool offers these solutions but using dedicated features such as:
Advanced fuzzy and phonetic matching algorithms to detect duplicate records
Code-free, point-and-click interface for seamless end-user experience
Merging and survivorship rules to enrich, overwrite, and remove duplicate data and more
How Does a List Matching Software Help Companies?
For many companies, data matching and deduplication is an in-house project. Usually, a team of data engineers or specialized BI consultants rely on coding scripts and manually check records to find and remove duplicate entries.
But here's where most in-house or manual methods fail: sophistication and costs that keep adding up.
Enterprise marketing companies process millions of records spread out across multiple disparate datasets – from Excel files and CRM systems to SQL and Hadoop-based repositories. In such cases, manual deduplication isn't suited for handling voluminous and complex data.
This is where a specialized list matching tool can be particularly useful as it can help with the following:
Achieve cleaner and accurate contact, email, and phone lists
Accelerate marketing turnaround time (time to takes to run a campaign)
Lower average lead time (length of time a contact remains a lead in the CRM)
Avoid reputational risks due to high spam complaint rates and poor customer journey tracking
Save operational costs from running campaigns such as failed postal deliveries, purchasing inaccurate lead lists, and list verification tools
4 Ways a List Matching Software Can Lower Your Marketing Spend
1.     Reduce Email Bounce Rates and Dials to Connect/Conversation
Marketing companies can't afford to have their domains rejected by email networks due to high bounce rates, nor can they have their sales reps spend hours getting past gatekeepers to finally exchange words with leads and prospects. And manual phone and email verification isn't the best use of resources.
A list matching tool can build a complete profile of each data source and detect errors based on the format of phone and email fields to identify the extent of inaccuracy or incompleteness. A software like DataMatch Enterprise, for example, can improve email bounce rates and dials to connect helping you:
Profile data to identify punctuation, spelling, casing, and other errors
Utilize Regex patterns to instantly identify varying formats and validation inconsistencies
Cleansing data errors through WordSmith and prebuilt transformations
Verify contact names (to determine email accuracy) through full name and nickname libraries
2.     Obtain Pinpoint Accuracy of Addresses to Enhance Direct Mail Campaigns
Direct mail campaigns, home deliveries, or location analysis to determine your radius of operations? It is far too common for contacts to enter the wrong or incorrect address in sign up forms or leave out specific pieces of information such as house number, street name, or ZIP+4 code.
The result?
Failed postal deliveries and lost brand reputation.
An address verification and matching component can eliminate such guesswork and risks. It can help you match address fields against a reference spatial dataset to determine the complete address information such as city and state along with longitude and latitude coordinates for pinpoint accuracy.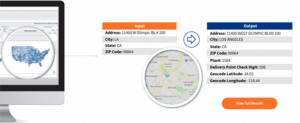 Figure 1
Data Ladder's DataMatch Enterprise, for example, can help boost location accuracy through:
3.     Have Consistent Messaging and Targeting Across All Touchpoints
Duplicate and redundant data create conflicting entries. A contact may enter his email address, phone number, and name to download a whitepaper; another to watch a webinar. While they may seem two separate contacts in the CRM, they may in fact be the same person.
Marketers may assume each are at different stages of the funnel and thus use different messaging and tactics for targeting.
A list matching tool can help solve such conflicts through advanced name matching algorithms. Using these, companies can detect and group non-exact matches and remove duplicate entries found across multiple datasets. DataMatch Enterprise, for example, utilizes both phonetic and fuzzy matching to set match definitions, assign weights, and matching thresholds to yield high match scores and minimal false positives.
An example of this is shown below.
Figure 2
Based on these, it can identify the matching results in groups and pairs and show relevant stats for each record.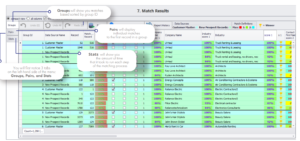 Figure 3
4.     Utilize Staff Time and Resources on More Strategic Areas of Marketing
The average enterprise marketing organization has data stored across multiple systems – from marketing automation software and Excel files to CRMs, web applications, and on-premises or cloud databases. There are millions of records pertaining to phone numbers, contact names, emails, and addresses and other fields that it must process.
Manual methods of configuring matching rules and inspecting list records for duplicates is a painstakingly long process. Any risk of duplication or incorrect data due to data entry or system-led errors can make entity resolution incredibly frustrating; not to mention more error-prone.
List matching tools can help companies speed up match results to lower marketing turnaround time by several weeks and months. Using a software like DataMatch Enterprise, companies can:
Save hours finding non-exact matches with a short time-to-first result
Automate list matching processes (using the scheduler feature in real-time) to run several campaigns in parallel
Enable staff time and resources to be better spent on more strategic areas (e.g., predictive modeling, advanced marketing stack, sponsorships, etc.
Conclusion
Marketing companies can see significant improvements in campaign performance metrics through accurate email and phone number lists, consistent messaging due to having a single entity view, and minimize marketing turnaround time.
For more information on how DataMatch Enterprise can help create and enrich your master data, contact us or call +1 866 557 8102
Start your free trial today