Company Profile
Maxeda DIY Group is a renowned Dutch retail group with 376 stores and nearly 7,000 employees across Belgium and the Netherlands. This company is a classic example of a large enterprise operating on multiple enterprise apps, trying to make sense of data streaming in from dozens of locations and sources. While the company's brick and mortar stores are doing exceptionally well, they plan to increase digital sales through their website. For this purpose, they needed clean data that they could use in a CRM and a new PIM.
Business Use-Case
Maxeda's primary purpose for going digital was to keep customers loyal. They also wanted to acquire new customers and increase their customer base by focusing on personalized and relevant marketing. To this, they needed data that could give them insights on user behavior, both online and offline as well as information that they could use to create a more personalized communication channel with their customers. Through digital transformation, Maxeda wanted to achieve customer loyalty and increase business value.
Challenge
Like many large enterprises, Maxeda had lots of legacy system issues that were affecting their digital transformation plan. Their data was split not just between different systems, but also between different countries. Additional challenges included non-unified methods of collecting and storing data. All this disparity eventually led to numerous data challenges such as the lack of unified systems, unorganized data, old and dirty data that needed cleaning and standardizing. These challenges were significant roadblocks to Maxeda's digital plans. Before they could move into a new CRM or PIM or implement a marketing plan, they had to ensure optimal data quality.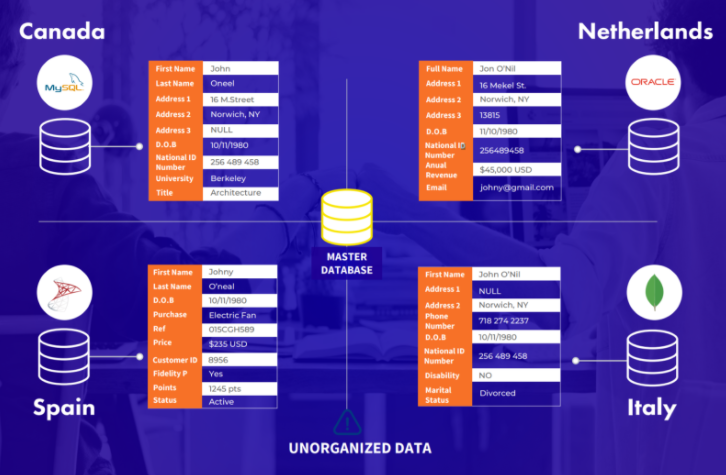 Solution and Benefits
Maxeda used DataMatch Enterprise to clean, profile, identify and remove duplicates of customer profiles, addresses, DOBs, and emails. There were 5 data sources of 3 different brands spread across 2 countries, which were brought together to generate a single customer view. Once this view was created, it would be stored in the new CRM and Maxeda could achieve their marketing and personalized communication goals.
It took just 2 months and 3 people to deliver Maxeda the results they needed. The manual method would have taken at least 10 IT experts over the course of 6 months to sort out data. For the first time in its history, it took just 2 months to obtain a first-ever single customer view stored in a single source in a single location! The company had more accurate data and were able to accomplish complicated data goals in a short time span.
About DataMatch Enterprise
DataMatch Enterprise is a user-friendly and powerful software that helps business users across many industries manage their data more effectively and drive their bottom line. Our enterprise-grade matching tool has been proven to find approximately 5-12% more matches than leading software companies IBM and SAS in 15 different studies. Let Data Ladder be your partner in your next marketing campaign. Increase your sales by offering data cleansing services through DataMatch™.
To get started with DataMatch Enterprise for your needs, click Contact or Download Trial.