Unparalleled Matching Accuracy and Speed For Enterprise Level Data Cleansing beating IBM and SAS
  Proprietary Matching Algorithms with a high level of matching accuracy at blazing fast speeds on Desktop/Laptop Hardware
 Big Data Capability with data sets up to 100 Million Records
 Deduplication and Merge Purge within and across any number of files
 Suppression of existing customers or Do Not Contact from marketing lists
Advanced record linking technology to create data warehouses
 Quick Data Profile tool finds and fixes Data Quality issues within the first 5 minutes of setup to improve match quality
Advanced Visual Match Review Interface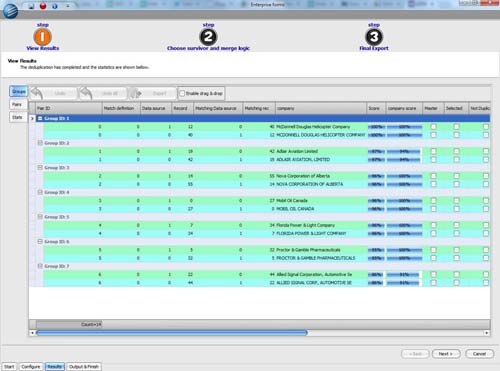 Quick Data Profiling Tool
What You See Is What You Get Data Cleansing
The DataMatch Enterprise suite is a highly visual desktop data cleansing application specifically designed to resolve customer and contact data quality issues. DataMatch Enterprise includes multiple proprietary and standard algorithms for detecting phonetic, fuzzy, miskeyed, and abbreviated variations.
The suite consists of scalable configurations for deduplication & record linking, suppression, enhancement, extraction, and standardization of business and customer data.
The DataMatch Enterprise suite can be used to find and link customer data, consolidate data across multiple sources, and remove deceased and unwanted records - quickly and easily improving your marketing and mailing performance. With the DataMatch Enterprise suite, you can automate daily maintenance functions with our API. Get a Free Trial with the form above and see what makes DataMatch Enterprise the highest rated data matching software.